Hi, I am Victor Zakharov, also known as Neolisk. I am a 34 years old full stack software developer with over 14 years of full time programming experience, with expertise in Angular and .NET. On this website I am going to share hard to find solutions as well as personal thoughts on software development industry. There will be source code, ideas, concrete solutions and development process related talks. No ads, no affiliates, only facts or honest opinions.
Certifications
I am a Microsoft certified web developer (MCSD) since 2013, recertified in 2016. I have over 30 expired Brainbench certifications, from soft skills, such as business and language, to programming aptitude, to concrete technology stack, and 3 job role certifications (5-10 exams each). I also have a current Angular job role certification on Pluralsight (May 2020, 9 online exams), with both ES6 and Angular skills at Expert level, top 97% and 92% respectively, of all test takers.
Competitive Programming
At university I took part in almost all programming related competitions (mostly ACM), and consistently placed in top 1-3 among same year Comp Sci students, every year. I competed as a team member in the national team final of Ukraine, and 2 times as a team lead for university team. Below is a certificate of archievement from 2006 (Vinnytsia, Ukraine).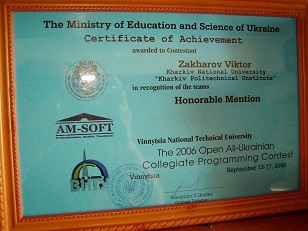 Years later, while working full time as a software developer in Canada, I competed online. Today I try to stay in shape with the help of sites such as LeetCode and CodeSignal.
Developer Community
I am a trusted user and moderator on Stack Overflow since 2011, the number one source for most programming related questions, backed up by a large development community around the world. You get some moderator permissions at 10K reputation, and more at 20K. Have a well research question that you do not know the answer for? Ask it on Stack Overflow, and get an answer in minutes or hours, depending on complexity and popularity of the tech stack. I am an overall top 2% user, but have been mostly inactive on the network for a few years now and only reply to comments.
About This Site
neolisk.blog (the site you are currently looking at) is a spiritual successor to neolisk.com, my old technical blog created in 2009, which was built with the old google sites platform, very limiting (100MB of space) and with layout and formatting issues as soon as contents got large or tried to render on mobile devices. It did not support code color highlight, so I had to use external websites to produce raw HTML. At peak of its popularity neolisk.com had over 200 daily visitors on average (for a few years).
neolisk.blog is powered by Hugo and zzo theme. Content is created using Markdown and compiled by Hugo into a static website running on plain HTML, CSS and Javascript. Its Git repo is hooked up to continuous integration and automatic deployment using Netlify. From commit and push to deployment it takes less than 30 seconds to see live updates. It even supports SSL/HTTPS. I tried my best to keep supporting IE11 and mobile, despite the limited audience from these channels. Let me know if you find any readability issues on portable devices.
Contact Me
If you have an interesting idea, drop me an email at neolisk@gmail.com.