On July 20th, 2023, I entered into a service agreement with Bell Canada for my internet services, and the installation was completed by a technician on July 22nd. The representative at the time assured me that my monthly charge would be $75, a $30 discount off their advertised public price of $105.
Just one week into the agreement, I found that my bill had been increased to $80. Without prior warning or notice. Here is a screenshot from "My Package and Features" page in my Bell account under "Internet".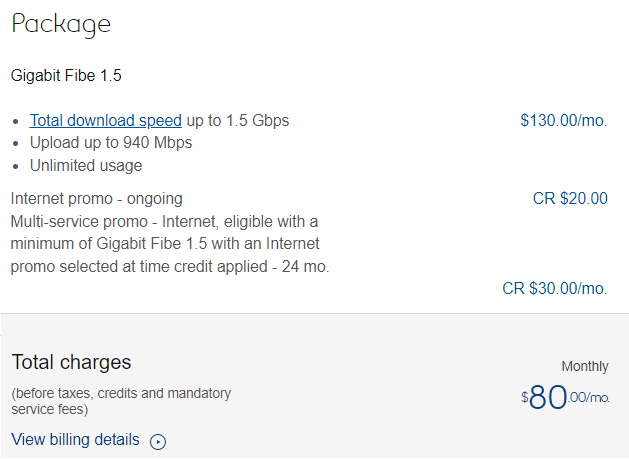 Upon contacting customer service, I was informed that Bell's price had been increased to $130. Interestingly, the public price had decreased from $105 to $90 due to an enhanced public discount of $40.
The terms of my original agreement were clear - a $30 discount from the public price. That meant my new monthly bill should be $60, not $80. Instead, my discount from the public price has been diminished to a mere $10.

Despite my logical argument, the customer service representative remained firm that my new monthly charge was indeed $80. This experience left me feeling unheard and frustrated.
To further illustrate the point, consider a hypothetical situation. Suppose Bell decides to increase its base price from $130 to $200 but simultaneously offers a larger public discount of $110, thus keeping the public price constant at $90. In this case, my bill would surge to $150, a shocking $70 increase. Bell maintains that this would be normal business practice. However, to any reasonable person, this is simply unacceptable.
A recent advertisement from Bell Canada, received in the mail, further muddied the waters. It listed a promotional price of $75/month, set to expire on August 31. In other words, had I signed up today, I would have received the original $75/month price I was promised. In a retail setting, most stores would honor the lower price and refund the difference to ensure customer satisfaction. But in this case, the internet service provider's policies were rigid and unyielding, refusing to accommodate such a fair adjustment.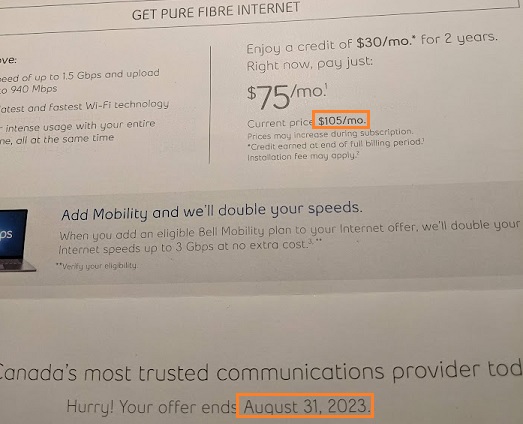 I write this article to bring awareness to my fellow consumers about such grey areas in the service agreement. It's troubling that loyal customers are made to bear the brunt of such changes without prior notice. This comes across as particularly harsh in light of the ongoing recession that we're experiencing in Canada in 2023. The additional financial burden imposed by such practices is a blow to the already struggling economy and adds unnecessary stress to individual households.
While the increase in my bill might not be significant enough for a court case, it leaves one wondering about the ethical implications. I urge all consumers to stay vigilant, examine your bills carefully and regularly, and hold your service providers accountable for any discrepancies. I am sharing this experience in the hope that it will prevent others from facing the same unexpected increases and to push for greater transparency from large corporations like Bell.